The work of implementing infection control measures ahead of the coming ski season is underway and following consultation with national health authorities and regional chief medical officers, we can now share our plans for the coming ski season. No one knows how the next months will unfold, but we do know that we will have snow, that winter is on its way and that we are looking forward to it!
We will do everything possible to ensure that this season is as close as possible to the experience you would have during a normal winter, but we are dependent on our guests following the advice given and that all our resorts have up to date rules, regulations and infection control measures in place.
Below, you will find the main rules that apply to Norwegian ski resorts. We encourage everyone to be considerate and take precautions in our resorts, so that you and others feel safe and can enjoy a lovely, long winter.
Please note that the rules are subject to change according to national advice and will be displayed in all resorts.
First things first.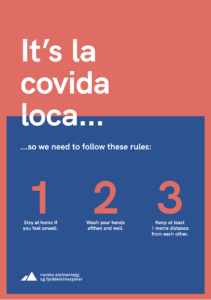 Before you start skiing, please consider the following:
Do I feel unwell?
Am I in quarantine?
If the answers to any of these questions is yes, do not visit our resorts. We are completely dependent on people that have symptoms, feel unwell or are in quarantine, stay at home. If the answer to both the questions above is no, we ask that you follow these now familiar rules:
If you feel unwell, stay at home
Ensure you have good hand hygiene
Ensure there is 1 meter between you and other people at all times
What should you do if you get symptoms or fall ill when you are at one of our resorts this winter?
Travel home as soon as possible
Isolate yourself in a separate room if possible
Do not use public transport
Cover your mouth and nose or keep 2 meters away from others
If you have anything to report, contact your doctor or representatives for the resort.
Lift passes
To prevent queues, we are encouraging visitors to purchase lift passes online, using a ticket machine or where available, via an app.
When purchasing a lift pass,  all guests will be told that they must follow the infection control advice, and that they must not visit the resort if they have symptoms of a respiratory infection or if they are in quarantine.
Violation of these rules may result in being banned from the resort.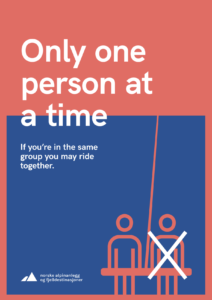 Ski lifts
Norway now has restrictions on the use of ski lifts. As far as possible, please share lifts and T-bars with members of your family or travelling party only.  If you share a lift with skiers outside your party, please ensure that every other seat on the lift is left free.
Whilst queuing for a lift, we ask that you stay a ski pole's length away from the person in front, behind and to the side of you. Follow signs and instructions.
All lifts will be manned, tell the lift operator if you need help getting on the lift
Do not use the wind shield when using chairlifts
The number of people in each gondola will be limited.
There will be no single skier queues to avoid mixing families and travel parties
The resorts are looking at ways of spreading the skiers around the area to make the best use of the capacity where needed.
Ski school
Tuition and ski schools are welcome offerings for many, but we have had to make some changes to the service this year.
Please do not attend if you are ill or have symptoms
Keep 1 meter apart
Only one adult can accompany a child to the meeting place
To help the organization of the lesson, we ask that you arrive in plenty of time before the lesson. This will also help facilitate social distancing
We will:
Ensure that there is a maximum of 10 people in each group
Ensure limited contact in games and during the lessons
Limit the sharing of equipment
Ski rental
Many guests want to hire skis or snowboards. This will still be possible, but these need to be pre-book where possible. Check on the resort's website for details.
Equipment is cleaned with soap and water after use
Helmets will be quarantined if necessary
All ski poles and goggles should be moved behind the desk in shops and rental shops to avoid testing
Food, beverages and après ski
Our restaurants will be open as usual and visitors are encouraged to follow the general guidelines regarding distancing and table service.
Après ski will be on offer in selected places, but only within the current infection control rules. This means that the distancing requirements of 1 meter must be followed and table service is mandatory.  The après ski experience is unlikely to be the same as it has been in previous years, but we hope the atmosphere at all our restaurants will remain cozy.
Contactless payment is encouraged and all contact surfaces, especially card machines, will be cleaned regularly.
We will:
Introduce stricter routines for cleaning, and follow the guidelines in our industry
Disinfect all necessary contact surfaces, such as door handles, toilets, remote controls and other smooth surfaces.
All our ski resorts will be equipped with hand sanitizer and good, clear communication for our guests.
Do you have anything to ask or want to notify us about?
Contact Alpinanleggenes Landsforening at: [email protected]
Or call +47 22 46 46 60